Timewaster is the phrase used regularly in the Escort Industry. A 'waster of your time'; someone who makes contact yet has little or no interest in paying the fee that your charge for your time. Unfortunately, Timewasters are very common in Sexwork Business.
Generally timewasters are the name we give dudes posing as prospective clients. They ask for information clearly listed on your website or ad, ask for a discount on rates that are clearly listed as 'non-negotiable'. They harass you for extra services you don't offer, naked selfies or videos made especially for them for free
Timewasters send dick pics, they make video calls so they can show us their man junk. They also offer to be our friends or ask us on a date
They waste our time for no good reason, expecting free labour. They are annoying to say the very least!
Other types of timewasters are the clients who book 1 hour and expect hours of free chit chat & build up prior to the meeting. There is the timewaster who wants to message you day & night after you meet. They think you are friends for the rest of your lives off the back of their 1hr incall…
They will never book you again but do book your mates and think you should all be friends and hang out for free and chat on social media, SMS and whatsapp
Guys who have booked once then become timewasters are the worst type!
It's always a worry that if you offend them they may become psycho/stalker/freak; if they paid a deposit they may know your real name or if they came to your incall address it's a concern
Time is something that we charge for and nobody wants to work for free
These days some ladies offer things like paid snapchat, only fans etc to minimise the timewasters or at least get paid to deal with these guys
You regularly see ladies post on Twitter things like:
'My time is chargeable, stop expecting free time!
'So many time wasters, expecting my time for free. I don't work for free!'
'If you are 15mins late for your booking, don't expect to stay 15mins over time. Your bookings starts when you booked, not when you arrive late. Its not my fault you are late' #timewasters #dontexpectfree #mytimeischarged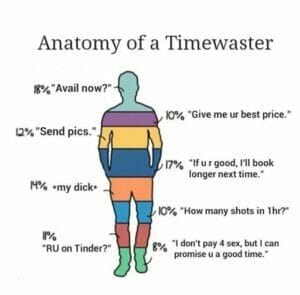 We all hate timewasters but do we ever look at ourselves?
Am I a Timewaster?
I am quite sure I am not a timewaster as I would never contact someone asking questions to things I don't know. I use google to research & learn; I read forums, blogs and follow people on social media that I wish to learn from (I am currently trying to learn more on cyber security)
My job brings me a LOT of timewasters tho!
When managing Escort Bookings I handle timewaster clients quickly and easily by being calls only. I have standard messages that I send in response to whatsapp or SMS messages so it's a 2sec job
The biggest time wasters for me are not punters they are escorts, managers/mentors/whatever and escort directories
I have my DM's switched off on all social media accounts but when I take a look at my DM's there is always plenty of messages from people I don't know, asking me questions expecting me to work for free.
They expect me to provide with free information and insight into how I run my business so they can earn more money by using my 20+ years experience, knowledge and know-how LOL
Hi Sarah. We have started a new directory named ABC.girls, can give us your feedback on our site. We want to take over the Australian Escort Market, you seem to know a lot about directories so your advice could help get us there!
Sarah – our site is new dumb.stupid.com please add a link in your blog. We are new and can't get girls to join up
Hi Sarah – My SEO doesn't work anymore. It used to work but now it doesn't so can you please tell me what is wrong with it.
Sarah; I read you blog on International Tours. I am going to Singapore, which hotels are SW friendly? What is the price for a taxi from the airport to the hotel?. I have spent my last money on my flight so I need to budget & save where I can! Thanks
Hi Sarah I would like to meet with you and talk about my brand and how I can increase my work.
Sarah how do I SEO my site? Can you please look at my site and tell me what I need to do
When I say I my time is chargeable you would think I insulted their family or something!
It seems that where there are plenty of people in this industry saying 'I am a business – I am a brand' yet they don't act like it. Every business and brand has expenses and running costs
Agency Atlantic is a Business and a Brand; I pay for all services that I cannot do myself. Sometimes I barter with friends who are great at graphics (not my forte) and I do tech for them, but mostly I pay.
Businesses do not expect free services from others and not offering to pay (or at least buy the wine lol) is a great way to lose mates too.
Even if your friend says 'don't worry about it' buy them a gift or something; it's a nice way to say thank you to a mate for taking their time to help as nobody wants to work for free
Google 'SEO services' and see if you see anyone that ranks high is offering SEO services for free. You will not find anyone anywhere doing SEO for free
The guys who are offering SEO for $99 are are a scam. I do Escort SEO and it has taken me years of work to get to where I am now; endless hours of learning, researching, testing and f*cking about with websites
Adult/Escort SEO is hard & time consuming AF. Adult SEO is a niche that is never mentioned in online studies or articles so a lot of SEO theories you need to test yourself
The well known real world online marketing & SEO guys like Neil Patel charge their time out at crazy money! They get results and being page 1 of google means more clients and $s for a business so people pay big money to increase their google ranking & to make more money. You need to spend money to make money
The SEO I used for Atlantic when I was too busy charged $2600 a month, he works the same niche that I do which is Escort SEO. Try it yourself & see how easy it is. Try reading an SEO basics blog & you may fall asleep lol SEO is data, stats, analysis and problem solving
Some of the Directory owners I know spend upwards of $5K a month for SEO. SEO is a just a cost that is part of having an online business
No Business have zero running costs – being a boss is expensive!
Being a Pty Ltd company costs Atlantic around $3000 a year, that's just to pay the accountant & ASIC fees. That's not the cost of GST or Taxes just for the person to prepare information to lodge with the ATO
As the saying goes you need to spend money to make money. If you want to be a successful escort you probably want to do a little more than have 1 mediocre photo set a year & 1 directory ad
I see people bitching about the cost of ads, the expense of photos or having to pay for web services such as websites. It normal for a business to have a marketing budget of at least 10% going back into the business to help it grow. Investing in your business is great for the future of your business
In no other industry have I come across so many people expecting the free labour of strangers and the adult industry pays a lot better than most other industries
Yes whilst you can make your own site in Wix if you want a designer to do it for you, you will need to pay. You are paying for a person's time and expertise. It may take you over 10hrs to learn to make an average site, it could be more cost effective to pay someone $1000 to a site for you?
All websites are not the same & different skill levels will have different charges too. An experienced person will charge more than a newbie. That's life
If you want someone to fix your website and you don't have a friend to do that for you, you will need to pay
All these things are a tax deduction for your escort business so why not invest in your future?
Timewasters are all around us
I saw a tweet recently where a girl said clients should pay full fee if they cancel. Fair enough, you can charge however you like as it's your business
If I could charge a $100 no-show fee or a cancellation fee to escorts who failed to turn up to their confirmed interviews for Agency Atlantic last year – I would have made over $1000
One of the main reasons I closed Agency Atlantic Escort Agency is because I got sick of having my time wasted and it was no longer worth the time, effort and money to keep it going. Escort Agencies are expensive to run and the hous are long
I live 3hrs from Sydney so would need to book a hotel and travel to Sydney, which a lot of time and expense. I would arrange meetings during that time and often get a 'sorry I can't meet today' SMS when I was on the train and many times I would sit waiting for a lady who didn't even bother to show up.
Many times when the lady did show up she looked nothing like her photos. Therefore my time was wasted as the woman before me is not the lady I thought I was meeting, the woman I was hoping to meet suited my client base, the woman before me did not. 40 year old woman trying to tell me they are 25, stuff like that lol
I am in my 40's myself so I have nothing against mature ladies, I think we are hot but mature isn't the demographic my clients were looking for. If you are mature go to a mature agency, like Sam X angels. Simple!
On interview day I would hope for the best and 95% of the time I was left disappointed and sad
There is also the Escorts who I work with in the successfully for 1 or 2 tours. They seem seem to get comfortable & think it's OK to waste my time planing tours that never occur.
In 2018 I worked on 6 tours that were cancelled last minute by the escort
A massive waste of my time!
Tours take many hours of planning not to mention the cost & time it takes to do the daily promotion that I do for tours to ensure they are a success
We are talking weeks of my life simply wasted for nothing, not to mention the cost of ads and they cost a lot!
I had 2 tours where the escorts decided to go home after their tours had started, thousands of dollars had been spent on ads for these tours
Agency Atlantic Digital & PA Services
So now Agency Atlantic no longer operates as an Escort Agency. We no longer provide ladies with free information for tours or mentoring as part of our all inclusive escort agency service
As a Digital and PA service for the Escort Industry, Atlantic essentially does the same thing as we have always done but we charge upfront for services, rather than pay for everything, do a tonne of work in the hope of receiving a commission. After losing over $10,000 this year in unpaid fees, I am not working for free anymore!
I am loving giving invoices that needs to be paid before work is started. After working for so long hoping that I would be paid, invoices give me so much joy 🙂
I charge for coaching (same as mentoring) by the week & by the month. If a lady wants paid ads the lady pays for them herself. I design websites, I do SEO as well I things like Brand Consulting & strategy, styling Photoshoots & so forth. All the jobs I have done for 20+ years but now it's not included in a commission. Its payable by the task
Atlantic charges for PA services and admin services, I am not the only person who does PA work Atlantic. I have a computer science degree & 20 years industry experience so my skills are worth paying for (even if I do say so myself lol)
I, just like everyone else in the world, hates working for free so please don't get in touch unless you intend to pay for services. Just like you expect your clients to pay for your time, skills and services, I expect the same. Simple 🙂
Ready to Elevate your Business?
We can assist with all your Digital Marketing & Business Needs
Want to DIY your website?
Subscribe to receive your WordPress DIY Checklist!