How Do Escort Clients Search?
How do Escort clients search? What are they clients looking for? How are they looking? What makes an Escort client click a website link?
What makes them leave your website before your website loads?
These days it's hard to get noticed as there are just so many escorts available. Your online strategy and Escort Brand strategy is now more important than ever!
In my opinion, if you plan on escorting for longer than 3 months you should get yourself a website. If you are a new escort and planning on working for less than 3 months, go to an agency or a brothel. It takes time and money to get established as an independent escort, not to mention it takes time to learn how to be an escort and also keep yourself out of harm's way.
After nearly 20 years of booking client's meetings, I know the most guys don't really have a type. James may like a petite busty blonde today, next week he is looking for a tall willowy super slim brunette
The only consistent thing I found is clients want to spend time with someone who wants to be there
Obviously they want things like good hygiene; nobody wants to get naked with a stinker lol
I have found that the majority of clients have always always wanted a nice personality, nice looks and of course a decent services list as generally nobody wants to pay for a sterile boring shag either. My view may be somewhat skewed as Agency Atlantic always attracted a certain client type due to the way I did our marketing
I am not really into the dirty old man type of client so have never promoted any escort as being a sexual service. I have always promoted escorts as a human beings with the sex being the bonus rather than the only reason to meet
Clients needs and wants change
I remember when I was based in London I had this awesome client who booked with me every time he came to town; always a dinnerdate or overnight. He took the girls to the best restaurants, bars and clubs. He was a girl favourite!
Every time he booked me he wanted girls who had model looks. If they didn't look like they came out of a magazine he wasn't interested.
Sometimes it was escorts I represented, sometimes it girls from friends agencies, my personal friends or friends of friends The one thing they all had in common were they had all been on the books of a modelling agency
One night he he phoned me & said he wanted to book a lady who was on my site (lets call her susie) whilst Susie is a very fun and attractive woman she was also size UK 14 and in her late 20's.
I used real information and her photos showed she was curvy but to be honest I was a bit confused by his choice. So in the conversation I mentioned she is lush curvy girl just like her photos to make sure he wasn't looking at the wrong photos or something. He said yes he definitely wanted to see Susie.
I arranged the meeting and was half expecting him to call me mid way & say 'sorry she isn't for me'. He did phone me to say he was having a wonderful time, the lady was one of the best escorts he had ever met & he wanted to book her for the next night as well.
All the girls I have represented over the years vary greatly in looks but as the saying goes, 'looks are only skin deep'. My type has always been 'Attractive woman who I am happy to hangout with' ?
I have worked with all ages, all 'types' (for want of a better word) and ethnicities, I work with Porn Stars, Uni students and corporate businesswoman but I will never work with someone who is arrogant, sneaky or greedy.
If I did't gel with an escort when I met them, I didn't represent them as I can't recommend them to clients wholeheartedly. When it's my job to book meetings & make money for escorts so if I can't do my best for someone, I will just so no
I like repeat clients & I prefer to keep them as clients lol For an agency you need both happy clients and happy ladies and I guess that works as Agency Atlantic Escort Agency was in operation for over 15 years
How do clients look for Escorts?
Clients may use google, they may use Social Media, they may go to their favourite directory, they may go to a forum, they may use search engines other than google (bing, yahoo, duckduckgo). They may even phone a friend lol
Google Search
For starters, let's focus on Google Search and how clients may use google to find you. To get found on google you need a website. Also, it's a good idea to get some SEO work done on your site to give google some help to find you. Yes, you can learn the basics of SEO yourself but do you really want to spend your time learning about algorithms? It's much easier to pay someone like Agency Atlantic Digital to handle your SEO needs
I hear escorts say but I don't need SEO. I personally see the benefits of SEO daily with my sites. I spend nothing on advertising for this blog yet it receives over 10,000 hits a month. I use content marketing as a way to get new clients for my Digital business Agency Atlantic
Google and SEO are where you Escort Brand truly comes to life! I see ladies spending thousands of dollars on photos, $1000s a month on ads but nothing on their brand, content, website or SEO
On page SEO is often all your need as an independent escort and this can be done by an Escort SEO such as myself in an a couple of hours. Its a small cost (less than most escorts 1hr booking fee) and you will definitely see a return on your SEO investment
User Intent
On a previous blog (What does an Ad site do?) I touched on 'User Intent' and how google finds the google user the information you want due to what google sees as your user intent
We all search differently and search results vary from my computer to my phone to when I use voice search. Google is smart and annoying as hell! As an SEO I sometimes feel overwhelmed by how much google keeps changing things, I read daily and some days the articles I read kinda freak me out
Google has this thing called machine learning – google learns from us just like in some of those computer take over the world movies. Is it Tron? Where the computer takes over the world? I do wonder sometimes if google is going to end up doing the same…
Google has the monopoly on search so if you are promoting an Escort Brand, SEO is something that you need to consider
Google Keywords and Key Phrases
A keyword or keyphrase is what you type into google; what thing you are searching for
Most escorts, agencies & directories often assume that the big keywords like 'sydney escort' or 'escort sydney'are the only ones worth anything. We think that Sydney Escort is the winner so let's not bother with other sites as what's the point?
By only caring about 'sydney escort' we miss out on so many great keyphrases. Did you know 50% of google searches contain 4 words or more?
If someone is use voice search they are more likely to search how they speak.
According to PwC, 32% of people aged 18-64 use voice search daily. This excellent article by wordstream gives statistics on voice search
Voice is awesome for local businesses. Voice changes how people search.
"I want an escort for incall in Bondi Beach" is more likely to be the search phrase rather then Bondi Escort
If you have an incall in Bondi Beach, you want to optimise your content for 'Escort Bondi Beach', rather than Sydney Escort or Escort Sydney. It's very unlikely you will get your website to page 1 for Sydney Escort but 'escort bondi beach' is a possibility as there isn't that many escorts in Bondi Beach.
This is an screenshot from a SERP (Search Engine Results Pages) report a few days ago showing some of the terms Sarahs2cents.com. It shows Sydney & Melbourne. Notice the position is different for some keywords in the 2 different cities?. 'free escort ads' position 1 in Sydney & 4 in Melbourne. 'best website for escorts' is 1 in Sydney and 7 in Melbourne
Why does a client click a link in google?
It's not just google position that counts as to where clients will click, It can be the wording shown on the Google search result that entices a client to click. These are called snippets & they are created by the meta used on your site
Google has a snippet of each of the page on Sarahs2cents not just for my home page Sarahs2cents.com – If I type in 'International Escort' into google search my blog on International Touring Tips & Tricks shows in google the following way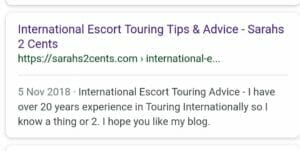 What makes them leave your website before your website loads?
There are plenty of reasons a client doesn't actually go to the site but the main one is load speed
If a site takes longer than 3 seconds to load it starts to lose people quite rapidly. If it's 10 seconds or longer, 50% of people will have left the site before it loads
I hope you found this blog helpful
Ready to Elevate your Business?
We can assist with all your Digital Marketing & Business Needs
Want to DIY your website?
Subscribe to receive your WordPress DIY Checklist!